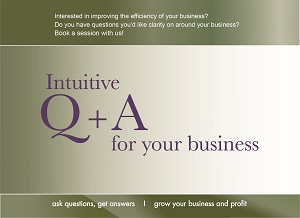 Interested in improving the efficiency of your business?
Do you have some questions you'd like clarity on around your business?
Maybe even get tips on how to make more money?
During this session:
we will communicate with Higher Consciousness to answer some of your questions on business challenges, how to's, and more so you can get clarity on running your business more effectively
we will ask questions and maximize on the Universe's Infinite Resources at our disposal
we will share Consciousness' wisdom and guidance on business so you can continue to grow your business and profit with confidence, ease, and intuition
we might even throw in a few healing in the mix
Book your appointment here
Jan
Feb
Mar
Apr
May
Jun
Jul
Aug
Sep
Oct
Nov
Dec
---
Disclaimer: Please note that the information on this website and provided during our sessions and seminars are not intended to diagnose, treat, cure or prevent any disease. This information is given strictly for educational purposes. In no way should the information in this website and in our sessions or seminars be considered a substitute for competent medical care by your physician or other healthcare professional.