ThetaHealing® Relationships 2: You and the Creator
Register below to attend this next seminar or click here to see our full list of ThetaHealing® seminars.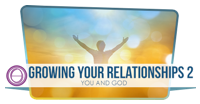 This is a 2-day seminar. It can be offered online or in-person."
Understand your divine self and your survival subconscious. The difference between the Creator's voice versus your ego. What is truth versus fear.
In class you will truly get to know yourself your motivations. You will learn to know true intuition versus being led by what you want to happen. This seminar is available for Basic and Advanced Practitioners. It can be taken with Growing Your Relationships 1 or by itself.
Prerequisites: Basic DNA, Advanced DNA and Dig Deeper
For additional information, visit www.thetahealing.com
This training includes the seminar manual and your certification.
---
Payment must be made before the start of the seminar. The payment is non-refundable. If you miss the seminar you will be able to apply your payment to any other seminar.
To register select the first date in the calendar below and follow the instructions
---
---