Annie Gélinas-Olive, ECPC, Adv. DNA & Intuitive Anatomy Certified ThetaHealing® Practitioner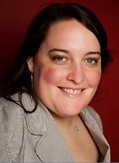 Annie Gélinas-Olive is a successful business growth specialist, life coach and graduate of the Erickson Certified Professional Coach program. She is an advanced DNA and intuitive anatomy certified ThetaHealing® practitioner. Guiding others on their path to self-discovery has been her long-time passion, as well as her life's work since 2010.
Annie's professional practice has given her ample opportunities to observe and identify the obstacles that everyday men and women encounter on their journey toward personal and professional fulfillment. Furthermore, her own life path has had its share of U-turns based on her own strong intuition. As a young graduate, she had accomplished her goals: she had completed studies in architectural technology with high honors, landed a great job in her chosen field, and was earning a more than comfortable living. Despite this early success, she had an overwhelming feeling of having reached a dead end. Stress and anxiety had a disproportionate role in her day-to-day life, and it gradually became clear that she had somehow become disconnected from her true self.
Driven by what most would call a "gut feeling," Annie walked away from her original plan to explore other options. Through the power of transformational conversation (coaching) she learned to set clear professional goals—and what's more, this style of coaching eventually became her chosen vocation. Annie's experience allowed her to recognize the power of intuition in a deep and personal way: since her crossroads, she's been successfully helping others discover their own inner compasses to facilitate positive change in their lives and businesses.
Everyone has a true purpose on this earth—the tricky part is figuring out what that purpose is. Annie's unswerving belief that each and every one of us is a unique and incredible person, combined with her knack for helping others tap into their own intuition, makes her the perfect companion on the road to self-discovery and professional growth.
The ThetaHealing® tools and techniques used by Annie are the secret of her success with each of her clients; they ensure permanent changes in their life. Annie is eager to help everyone in discovering their limiting beliefs and releasing them forever for them to have an easier, happier, and thriving life.
Now join her and Let's Talk…
---
Book a session with Annie
---