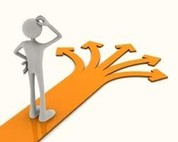 Why is it so difficult to make a decision?
Straight answer is because we never learned to make decisions for ourselves in a safe way. We've been educated through fear. We learned that whatever we choose to do there will be consequences to our choices. So 90% of our decision making is based on fear.
We're afraid of getting hurt.
We're afraid to make mistakes
We're afraid of hurting someone.
We feel guilty because we ...
Continue Reading →
Share